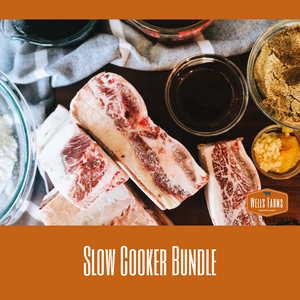 The Slow Cooker Bundle
Regular price $135.00 Sale
The Slow Cooker Bundle was created to help get you through these cold Wisconsin Fall and Winter.  Nothing is cozier than a hot, comfort food meal when it is cool outside. This bundle also includes an e-book with some of our favorite slow cooker recipes to help you on those days you just don't know what to cook.
This Slow Cooker Bundle includes:
1 Roast of Choice (Chuck Roast, Sirloin Tip Roast, Rump Roast)
1 Brisket
1 pound Stew Meat
3 package Beef Short Ribs
2 Beef Shanks/Soup Bones

1 Wells Farms Kitchen E-Cookbook to create delicious homecooked dinners for your family.
Order your local beef and pork from Wells Farms that has been raised locally on our small family farm just outside Madison, Wisconsin in Rio and have it delivered directly to your front door for no extra cost.  Wells Farms delivers weekly on Wednesdays.  Click here for more information on our delivery policy.