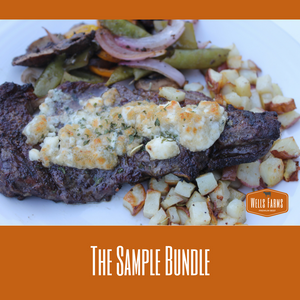 The Sample Bundle
Regular price $0.00 $75.00 Sale
Want to give Wells Farms Beef a try before committing to The Beef Bundle? Are you looking for a gift for that foodie or carnivore in your life? Then The Sample Bundle is for you!
Purchasing your beef from Wells Farms ensures that your beef has been raised locally on a small family farm near Madison, Wisconsin.  The Sample Bundle will allow you to try some of our favorites of our dry aged premium beef without requiring the storage of large quantities of beef.
The Sample Bundle includes:
2 Ribeye Steaks, T-Bone Steaks or Porterhouse Steaks (Porterhouse steaks available for an additional charge)
1 Roast (Chuck Roast, Sirloin Tip Roast, Rump Roast)
3 - 1 lb packages Ground Beef
Order your local beef from Wells Farms and have it delivered directly to your front door for no extra cost.  Click here for more information on our delivery policy.