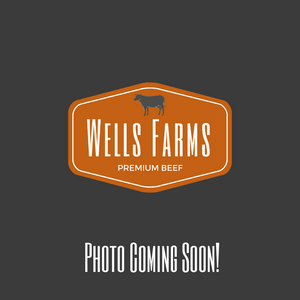 Smoked Ham Steak
Regular price $17.50 Sale
Our heritage pork smoked ham steaks are perfect for a quick breakfast meat or dinner ham craving without making an entire ham. These ham steaks are fully cooked and ready to serve! The ham steaks are center cut from our premium cured and smoked hams.
Heritage Duroc Pork
100% natural, no added hormones
Product will be delivered frozen
Weight: Approx. 1.4-1.8 lbs 
Cooking Directions:

These ham steaks are fully cooked. Heat to desired temperature in a warm frying pan
You can be confident when purchasing beef and pork from Wells Farms that your meat was raised on a small local farm outside Madison, Wisconsin.  We take great pride in raising our animals with the utmost care and respect to provide you with a premium product that you can trust. Meat raised by Wells Farms is all natural meaning it has no added hormones.  Thank you for choosing Wells Farms Beef as your source for local meats.