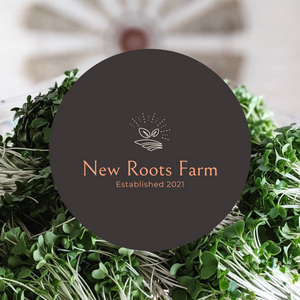 Microgreens Add-On Share
Regular price $75.00 Sale
New Roots Farm 
 Microgreens CSA Share Add-On


This is offered as an "Add-On" share to the purchase of a meat CSA Share.  
New Roots Farm is located in DeForest, WI and owned by Stephanie Peterson.
"My desire to continue caring for people while nurturing my interest in the environment has allowed me to expand into regenerative farming and provide nutrient-rich produce that can aid in disease prevention and help regulate our body systems. I feel that it's also important to return nutrients to the soil through the practice of regenerative, sustainable farming and support the fragile ecosystem in which we live." - Stephanie Petersen
Each month you will receive one 6oz mixture of broccoli, spicy salad mix, pea shoots, radish. Greens are grown fresh weekly and harvest the day of delivery.
You will pick up your share between 4:00 pm - 6:00 pm at your CSA pickup site of choice on the 3rd Wednesday of the month.