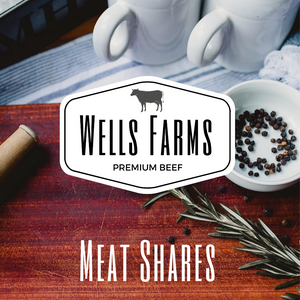 2023 Summer CSA Program
Regular price $280.00 Sale
2023 Summer Meat CSA Program
Better Beef. Delivered. 
Wells Farms is proud to provide your family another convenient option to access local meats through the 2023 Summer Meat CSA Program.  In exchange for your investment in the CSA, you'll receive an assortment of premium cuts of beef, pork, or beef + pork each month, delivered to the CSA pick up site of your choice. You will receive 5 deliveries (one per month) from June 2023 - October 2023.
You simply pick your protein choice, pick your size preference, and select a convenient pick-up location.
PROTEIN CHOICE:
Beef Only

Pork Only

Beef + Pork Combination
SIZE CHOICE:
Large (approximately 12-15 lbs per month)

Medium Share (approximately 8-10 lbs per month)

Small Share (approximately 4-6 lbs per month)
PICK-UP LOCATION CHOICE:
Sun Prairie
Deforest
Madison
Fitchburg
Our Farm - Rio
PICK-UP DATES:
June 21
July 19
August 16
September 20

October 18

WHAT'S IN A SHARE:
Every beef and beef + pork share includes ground beef, where a pork share contains ground pork, with a mix of specialty cuts.  The specialty cuts will be selected to complement the seasons.  You will also receive a monthly newsletter with recipes matching the items you will receive in your monthly share, a private Facebook Group, and a deep connection to a local farmer.  
ABOUT WELLS FARMS:
Wells Farms is a small family farm just outside Madison, owned and operated by Kenny and Sarah Wells and daughters. The Wells Farms mission is to raise premium local beef with a difference that you can taste, while connecting you to the people who raise it.  The black angus cattle are feed a combination of high-quality grasses, hay, and corn and grain mixture.  This high energy ration ensures the development of marbling.  Marbling and dry aging is what gives you that juicy, flavorful cut of beef that Wells Farms Beef is known for.