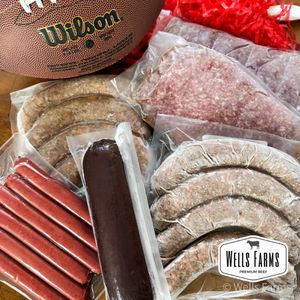 Tailgate Bundle
Regular price $50.00 Sale
Whether you are tailgating in a stadium parking lot or having some friends over cheer on your favorite team, we got you covered in the meat department! So, pull out that portable grill, pack up the cooler and get ready to wow your friends with the best grilled meats in the parking lot!
This tailgate assortment comes with the following:
1 pkg Mild Beef Sticks
1 stick Beef Summer Sausage
1 pkg Cheddar Pork Bratwurst (4 brats per pkg)
1 pkg Regular Beef Bratwurst (4 brats per pkg)
2 lbs Ground Beef
You can be confident when purchasing beef from Wells Farms that your beef and pork were raised on a small, local farm outside Madison, Wisconsin.  We take great pride in raising our animals with the utmost care and respect to provide you with a premium product that you can trust. Beef raised by Wells Farms is all-natural meaning it has no added hormones.  Thank you for choosing Wells Farms Beef as your source for local meats.