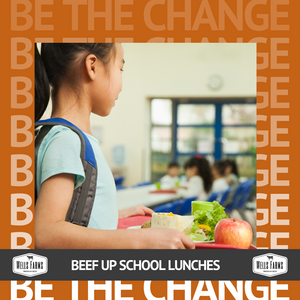 2023/2024 Beef Up School Lunches
Regular price $24.00 Sale
Over the years you have helped us double donations to local food pantries on a couple occasions.  With school starting we decided we would focus a donation to the school lunch program.
With having children in school for the past 7 years, we have heard the grumblings about the quality of school lunches.  We have heard it from friends in different school districts and in different states.  Schools are put in a difficult position of trying to provide lunches on a minimal budget and we thought it was time to be part of the change, even if it is a small step.
We have committed to providing the Rio Community School District with at least 2 meals worth of beef for this school year.   We are reaching out to our fantastic Wells Farms Customer Community to help be part of the change.  With your help, we can make an even bigger impact and provide more than the two meals.  If you are able or so inclined, let's help step up the lunch game for the kids!